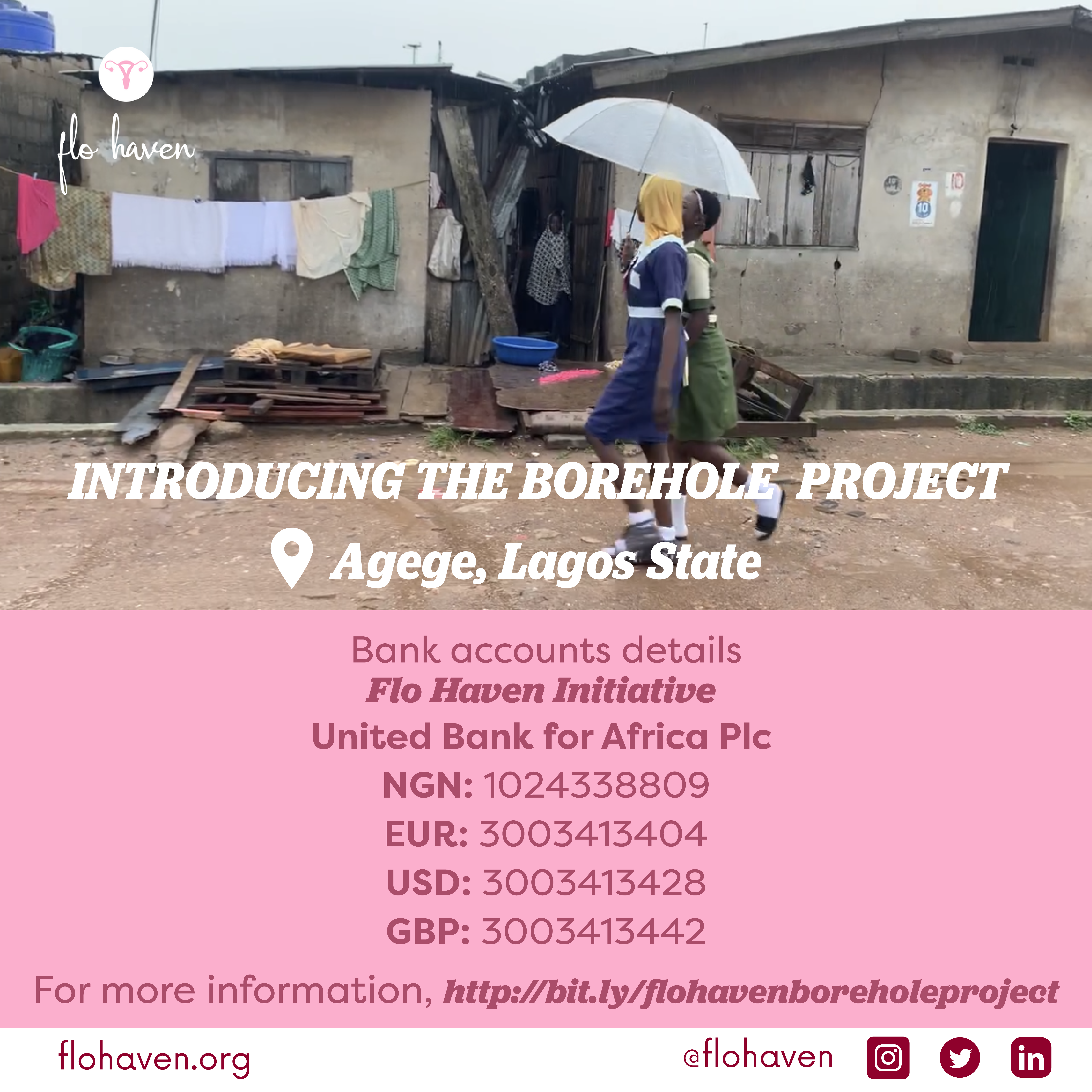 PROJECT PROPOSAL SUBMITTED BY FLO HAVEN ON THE CONSTRUCTION OF COMMUNITY BOREHOLE AND PUBLIC TAPS AT AGEGE COMMUNITY IN LAGOS STATE.
CONTENTS
PROJECT SUMMARY
Flo Havens priority remains to eradicate period poverty in Nigeria. Period poverty can be defined as the inability to access menstrual products during menstruation, due to financial constraints and poor menstrual health education. Health experts have labelled period poverty as the cause of the rise in reproductive and urinary tract infection amongst girls in Nigeria and why they routinely miss school.
In the course of our outreaches, we adopted the Agege Community in Lagos state, where we routinely distribute menstrual kits and teach menstrual health education to underprivileged girls and women. We discovered that lack of clean water could be a barrier to their practicing good menstrual hygiene, and as part of our efforts to encourage good menstrual hygiene, we decided to construct a community borehole and public taps to serve the women in this community.
The project site is located at Oko Oba, Agege, Lagos State. Agege, coined from the word 'Ageigi' is a word in the Yoruba dialect that was used to refer to the Hausa people that provided services to Yoruba people in this area, is a Local Government area in the Ikeja Division, Lagos State, Nigeria. The estimated population of this area is 461,123 residents.
The main objective of this project is to provide the community with clean portable water which would enhance good menstrual hygiene among the menstruating population.
With the realization of this project, girls and women in the community will have access to water and be able to maintain good personal and menstrual hygiene, thus reducing the risks of contracting reproductive and urinary tract infections caused by poor hygiene.
ORGANIZATIONAL PROFILE
Flo Haven is a non-profit organisation, launched on the 22nd of December 2020, which advocates for menstrual equity and the provision of menstrual health education to the underprivileged girls in Nigeria. The mission of the organization is to eradicate period poverty and the stigma attached to periods in Nigeria.
Since the inception of this initiative, we have been able to achieve the following:
We organised an outreach at the Surulere Girls Secondary School, Lagos State where we provided menstrual kits as well as menstrual health education to 200 girls.
We have adopted the Agege Community in Lagos State, where we consistently reach out to underprivileged girls and women, providing them with menstrual health education and menstrual kits.
Following our interaction with the girls and women from the Agege community, we realised that the challenges they face is beyond just access to menstrual products, but also easy access to clean water. As such, we are in the process of developing a borehole in the community.
Whilst we are proud of the impact we have made and plan to make, there is still so much to be done to eradicate period poverty in Nigeria. Our next step in achieving this goal is our current project, the construction of a borehole to provide clean water which will help the girls in the Agege community of Lagos state practice good menstrual hygiene.
PROBLEM STATEMENT
Lack of access to portable water leads to health problems and unsafe hygiene practices.
Lack of access to safe water and sanitation significantly affects the health of women as well. Burdened daily by water collection and finding a place to go, women and girls spend large amounts of time carrying heavy vessels and walking long distances. The physical strain of these activities impacts their health.
Improved water, sanitation and hygiene practices lead to improved health for women and girls. It reduces disease, under nutrition, injury from water collection, and stress.
About 1 million people a year die from water, sanitation and hygiene-related diseases. Many people suffer from stunting and chronic malnutrition which can be linked to a lack of access to safe water and sanitation. Lack of access to safe water also affects the physical well-being of women and children who have no choice but to carry heavy vessels long distances. As we face the COVID-19 pandemic, now more than ever access to safe water is critical to the health of families around the world.
Access to safe water and sanitation are human rights, as recognized in 2010 by the United Nations General Assembly.
The main objective of this project is to provide the community with clean portable water which would enhance good menstrual hygiene.
GOALS/OBJECTIVES
The main goal of the project is to provide clean potable water through the erection of a borehole in order to promote good hygienic practices. The specific objectives of this project include:
To construct a borehole
To promote good hygiene and sanitation
To provide menstrual education
PROJECT ACTIVITIES
The project activities shall include:
Sensitization meeting
Identification of a contractor
Procurement of construction materials
Construction of borehole.
TARGET BENEFICIARIES
1. The project would be implanted in Oko Oba, Agege, Lagos State.
2. It is expected that females in this community will benefit from this project, and will be able to practice better menstrual hygiene as they will have close access to clean potable water.
MONITORING AND EVALUATIONS
The project will be monitored by our Founder, Tara Akindele as well as Flo Haven's project management team.
DONATIONS

If you would like to support the charity in providing clean water to the girls in Agege Community of Lagos State, by developing a borehole for the community, and or share with someone to do so, donations can be made into the accounts below. We have accounts in NGN, EUR, USD & GBP.
Please see below for our respective account details:
Account name: Flo Haven Initiative
Bank: United Bank for Africa Plc (UBA)
NGN 1024338809
*EUR * 3003413404
*USD * 3003413428
*GBP * 3003413442
CONTACT
If you have any questions on how your donation will be used or want any additional information on how to continue to support, please do not hesitate to contact us. We are available at:
Email: info@flohaven.org